It's A Beautiful View
Bella Vista Farms suffered range fires in 2010. We lost irrigation equipment and a few trees. In the spring of 2015, we planted trees in pastures containing horses. Pierre Sourzat, a truffle researcher in France, is conducting research with horse manure in France. He believes that this may be the main reason for reduced production of truffles in France is because of the reduced use of horse manure which contains some beneficial enzymes. We will duplicate research in our Idaho soil to see if we notice any differences.
     On February 12, 2012, the first Western Hemisphere cultivated Bianchetto truffle (aka Tuber borchii, Italian spring white truffle or Tuscany white truffle) was harvested in a truffle orchard near Boise, Idaho. This was harvested under a tree that was planted in the spring of 2008. Paul Beckman and Brad Sprenger were hunting for truffles with Sophia (a Lagotto Romagnolo or Italian Truffle Dog) on Beckman's farm. While Mr. Beckman is testing five different truffle varieties in his orchard, they were specifically focused on hunting the Bianchetto truffle because this variety matures in the spring. Sophie identified the Bianchetto truffle at a depth of about 8"underground. Beckman, Sprenger and several other Boise area farmers have planted thousands of trees inoculated by Dr. Charles Lefevre at New World Truffieres in Eugene, Oregon.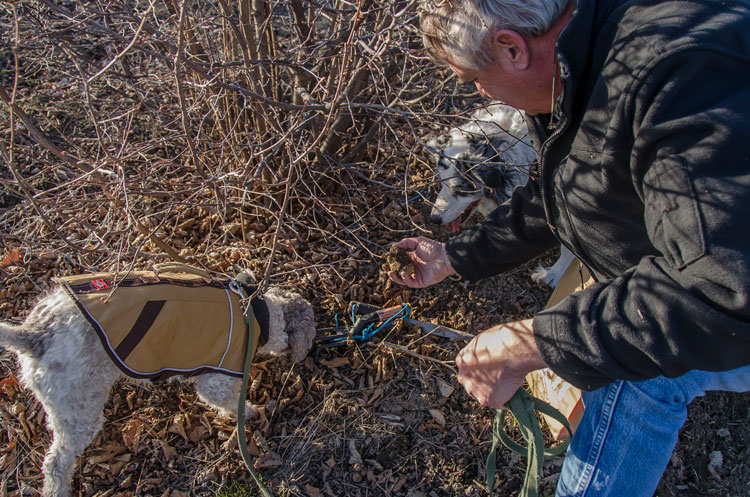 Eugene is also home to the Oregon Truffle Festival where most of the Idaho growers have gathered to learn the art of truffle growing. Every year truffle experts from around the world are brought in for these grower seminars. A majority of these experts have ties to the mycology department at Oregon State University. Most inoculated trees are European hazelnut, but several oak tree varieties, including English, Burr , and Chinquapin, have also been planted. The Idaho group hopes to bring Idaho to the international stage as a key producer of this gourmet delicacy and bring a healthy competition to their eastern counterparts such as Dr Tom Michaels of Tennessee Truffles, the first commercial grower in the US. He has been producing the French Perigord black truffles (Tuber melanosporum) since 2007. For more information contact Dr. Charles Lefevre at www.truffletree.com/ , Dr. Tom Michaels at http://tennesseetruffle.com/shop/ – , or Paul Beckman at beckmanp@earthlink.net.
GET IN TOUCH WITH BELLA VISTA FARMS
Truffles, Blue Orchard Bees, Leafcutter Bees and much more. We're innovating and always working! We would love to talk to you about our latest projects and discoveries, and yours.  We are always eager to trade knowledge, collaborate, and even just for a good chat.